SET ON 60 ACRES OF PRIVATE LAND WITHIN THE GREAT BEAR RAINFOREST, OUR HISTORIC PROPERTY OFFERS LUXURY WILDERNESS ACCOMMODATION IN AN AWE-INSPIRING SETTING.
Home of the Grizzly Bears! The historic Tweedsmuir Park Lodge, set on 60 acres of private land within the vast wilderness of British Columbia's largest provincial park and the Great Bear Rainforest, is the ideal setting for your wilderness adventures. Originally built in 1931 as a hunting and fishing resort, today the lodge accommodates those seeking out a more eco-friendly adventure as well as a relaxing refuge from the pressures of modern life.
The surrounding environment is stunning. Rising above the valley floor are the majestic Coast Mountains, to the west is the largest fjord system in the Americas, and to the east the high Chilcotin Plateau. It is a bio-diverse and spectacular wilderness, home to the totemic wildlife of the Great Bear Rainforest.
Even though our location is deep within the wilds of British Columbia, we are only a 70 minute flight from Vancouver, making us one of the most easily accessible wilderness lodges in Canada! The property consists of the main lodge building, as well as 10 chalets, nestled on the forest's edge.
In addition to amazing wilderness experiences, our team aim to exceed your expectations. Perhaps this is one of the reasons we are consistent winners of TripAdvisor's Certificate of Excellence and the Traveller's Choice award as part of their Top 25 Small Hotels (Canada). We are also honoured to have CNN Travel call Tweedsmuir Park Lodge one of 'British Columbia's best luxury lodges'!
We look forward to welcoming you to Tweedsmuir Park Lodge, a founding member of The Magnificent 7 – Luxury Wilderness Lodges of Canada.
Tweedsmuir Park Lodge
Between Mt Stupendous and Mt Melikan, where the Atnarko, Talchako and Bella Coola Valleys merge, you'll find Tweedsmuir Park Lodge and pure bliss.
Retreat and unwind with our full-service facilities, including a cozy stone fireplace; the on-site restaurant serving a tasty menu with a West Coast infusion; a games room; retail store; satellite internet and more.
The Chalets
Settle into one of ten authentic log or timber-framed chalets on our huge lawn, nestled on the fringe of the Great Bear Rainforest. Each chalet has sweeping mountain views of the rugged Coast Range mountains. Have a nice cold drink on your private deck as the day's light fades......chances are you might spot some wildlife!
Couples love the Grizzly Log Chalet and its California King sculptured bed!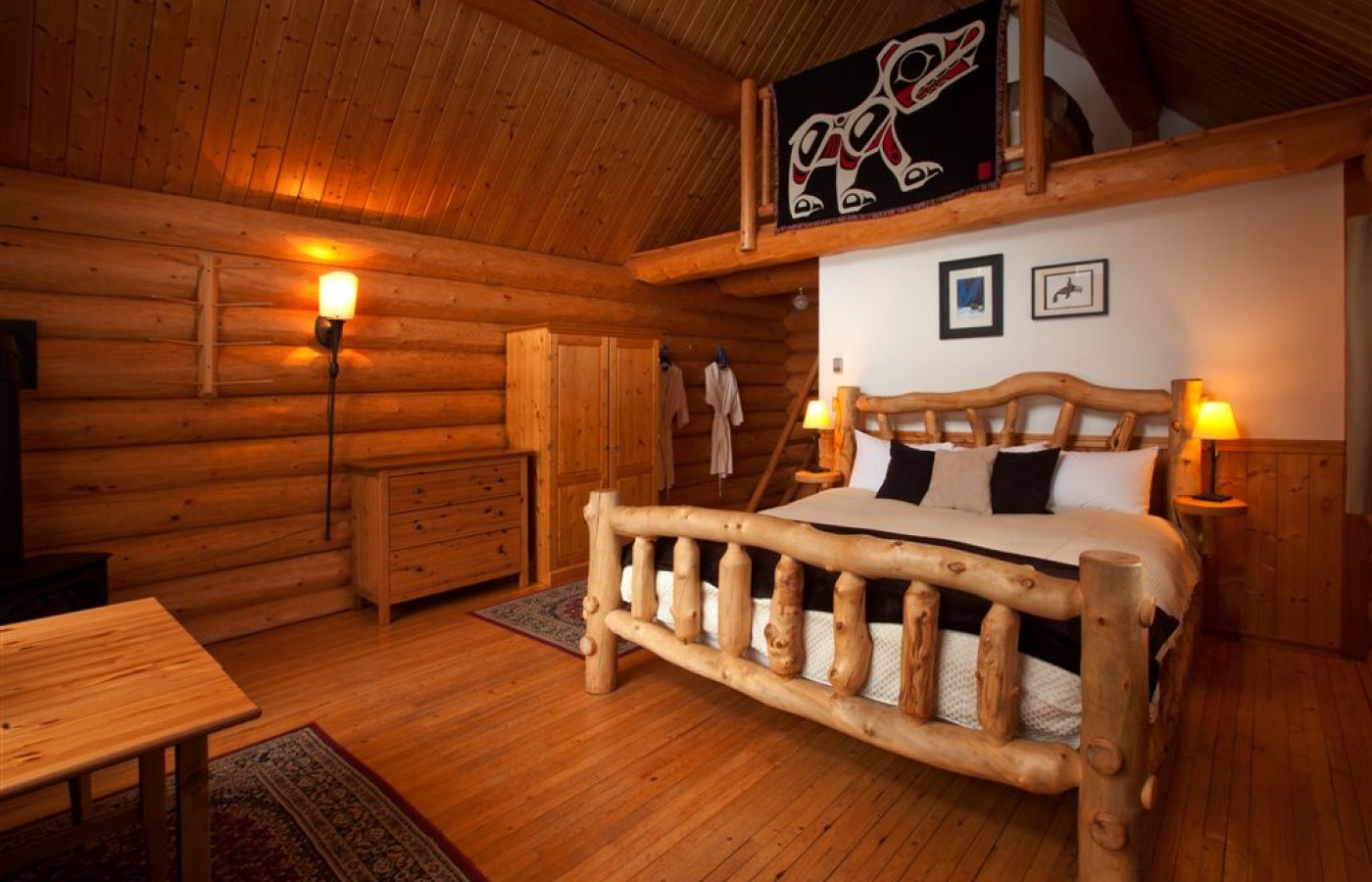 Our 7 Loft Chalets are very spacious, with amazing views and are perfect for couples or families.
The Pika Duplex is perfect for families, or friends travelling together. Oh, and the large slate shower with 2 heads is amazing!
Spa & Gym Building
At the end of your fun-filled day soak your muscles in our large outdoor hot tub. If you enjoy working out, the gym will have the basics covered!
Wildlife Viewing Platform
Observe Wildlife from our Viewing Platform
Wander just 200-300 metres from your private chalet to our viewing platform. It's possible to see bears, wolves, eagles and more! For the exclusive use of our guests only. Not open to the public.
Inspired Cuisine
We serve an international style cuisine, with a West Coast twist. All meals are served in the main dining room of the lodge and are included when booking one of our all-inclusive packages such as the Bella Coola Explorer or Grizzly Bear Safari. To complement your meal there is a well stocked wine cellar with a special focus on New World wines from British Columbia's best vineyards.
Lodge History
Stooick has been shortened to Stuie, and this is now the location of Canada's historic Tweedsmuir Park Lodge, one of the first lodges on the West Coast of Canada. The site was well chosen and to this day people frequently remark on how peaceful and well rested they feel after a couple days in the area.