Engage all your senses in a wild encounter with the grizzly residents of Bella Coola! Be exhilarated as grizzly bears hunt and feast along the riverbed, scavenge Bella Coola's pristine terrain, and roam free-range across lodge grounds. Drift by river, gain a bird's-eye view, or trek on foot through the Great Bear Rainforest with a knowledgeable guide.
WHY VIEW GRIZZLY BEARS AT TWEEDSMUIR PARK LODGE?
Forget floatplanes and transit accommodation costs; you'll kick-start your Grizzly adventure sooner at Tweedsmuir. From Downtown Vancouver to a Great Bear Rainforest river drift in just three hours, Tweedsmuir Park Lodge is a remote escape with convenient access, giving you more time with the bears!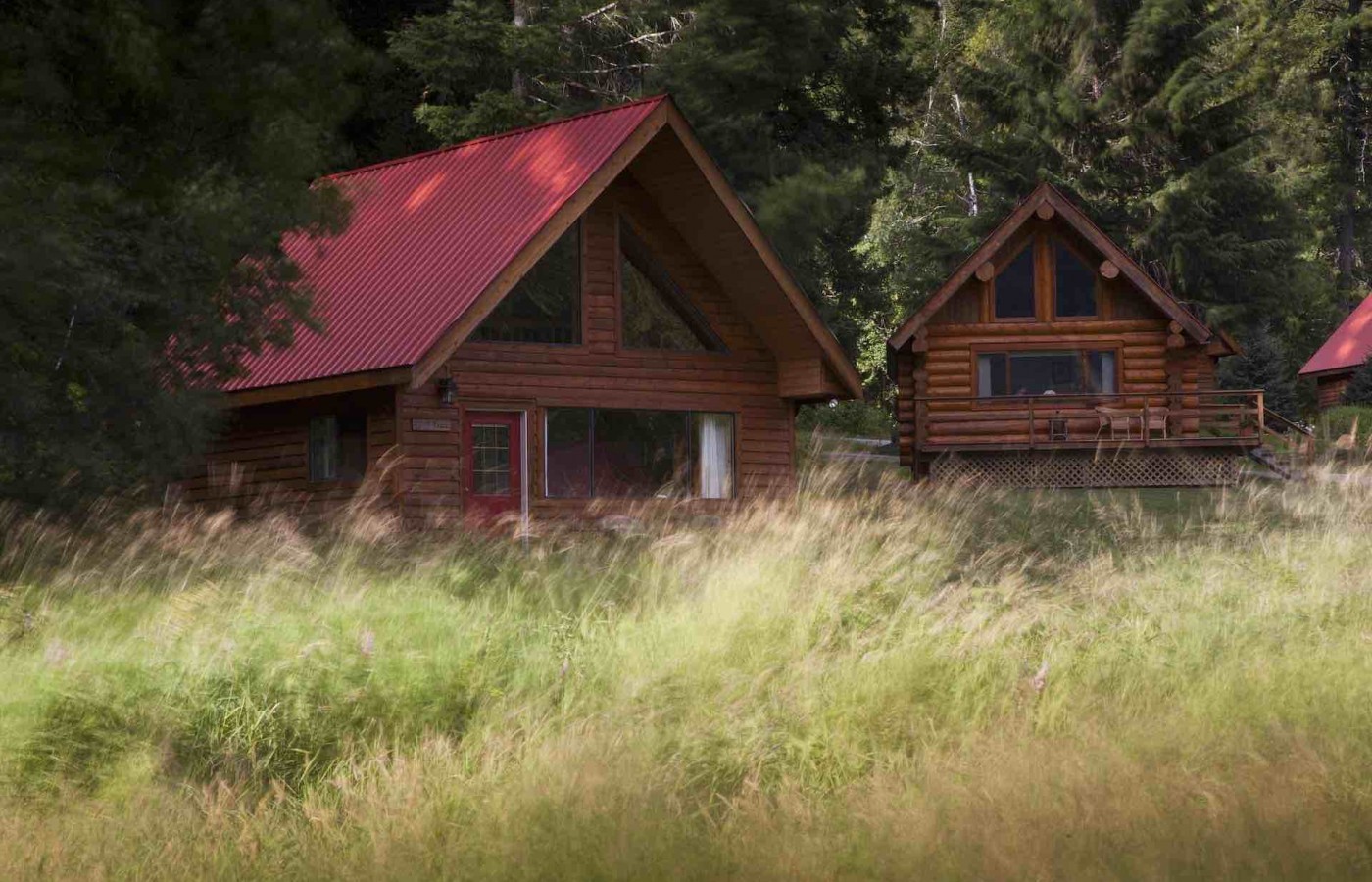 Nestled on the forest fringe, you'll find 360 degrees of Grizzly viewing opportunities at Tweedsmuir Park Lodge. See sows grazing on the lodge lawn, meander three minutes from your chalet to either of our two wildlife viewing stations, river drift past feasting bears, or join a guided Grizzly walking tour for front-row action!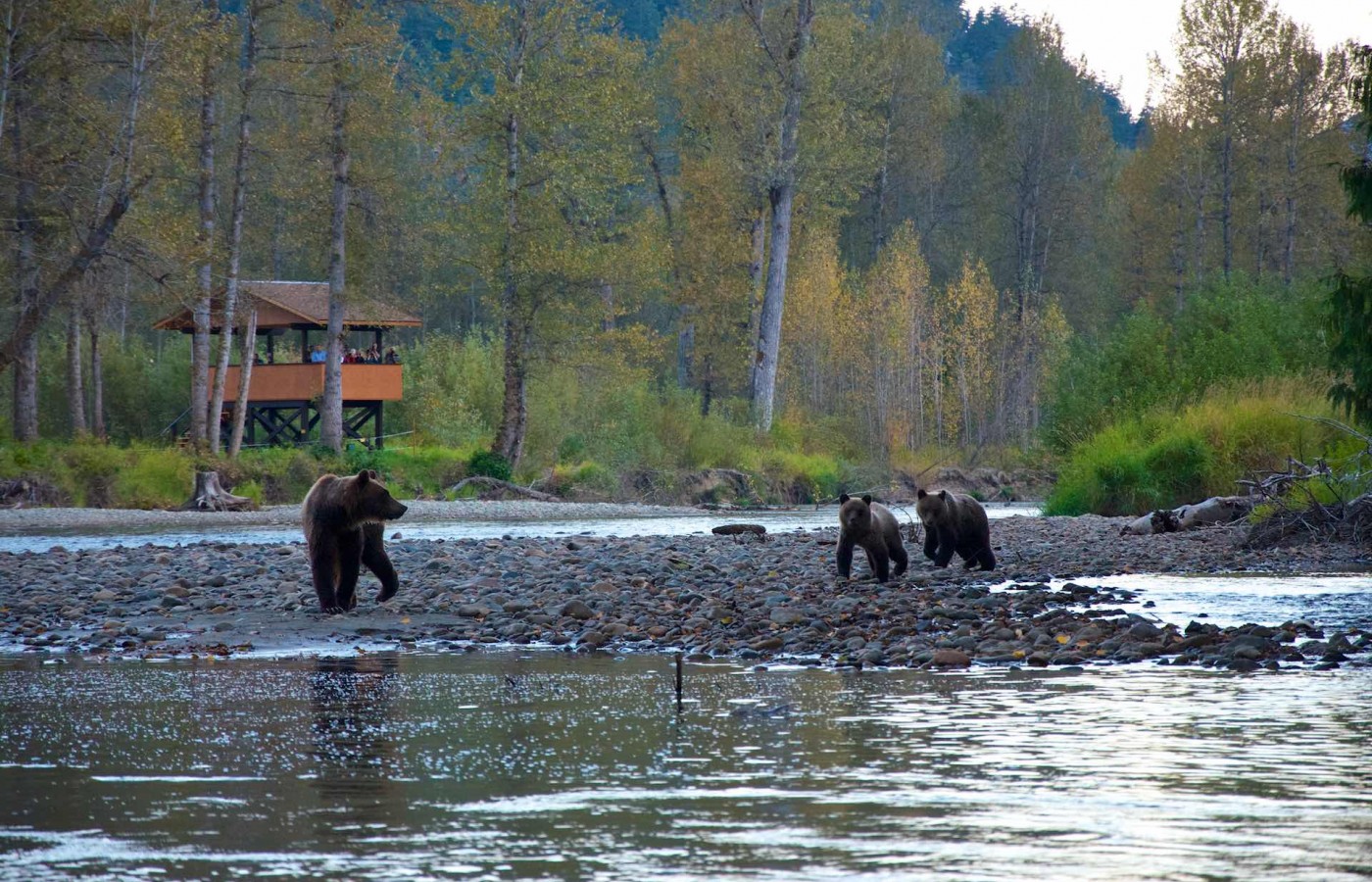 There's no mass tourism here. All Grizzly Bear tours are private or small group form (capped at six explorers), meaning you'll learn more, see more and do more at Tweedsmuir Park Lodge.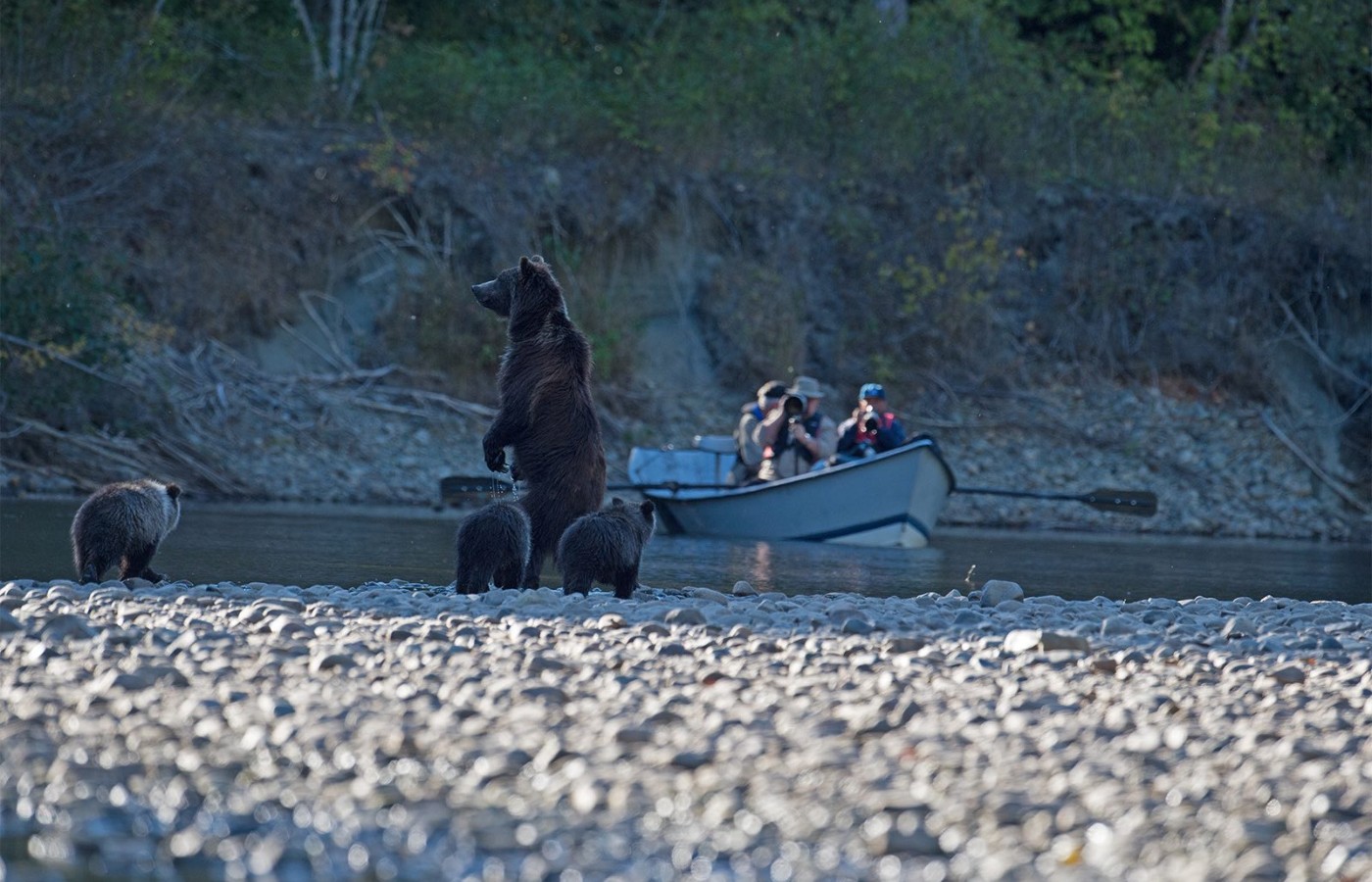 Escape and indulge at Tweedsmuir Park Lodge, one of The Magnificent 7 Luxury Wilderness Lodges of Canada. Observe Grizzly Bears right from your private timber-frame chalet as they roam the lodge lawn!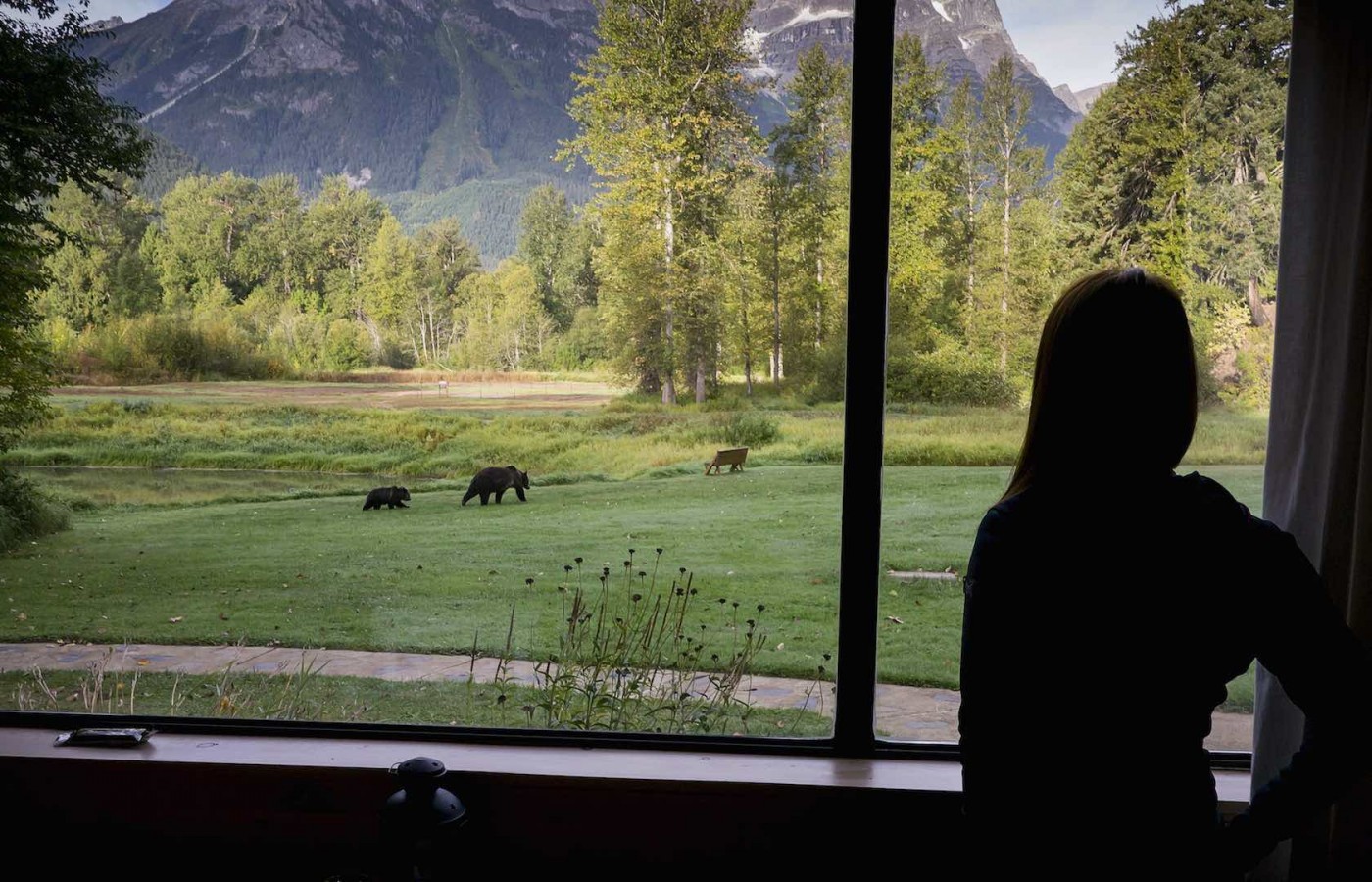 WHEN CAN YOU SEE BEARS AT TWEEDSMUIR PARK LODGE?
The Pacific Salmon migration begins, attracting hungry bears to the riverfront. We start offering the Grizzly Bear Safari as of September 1st, as we are very confident from this date onwards that guests will see many bears!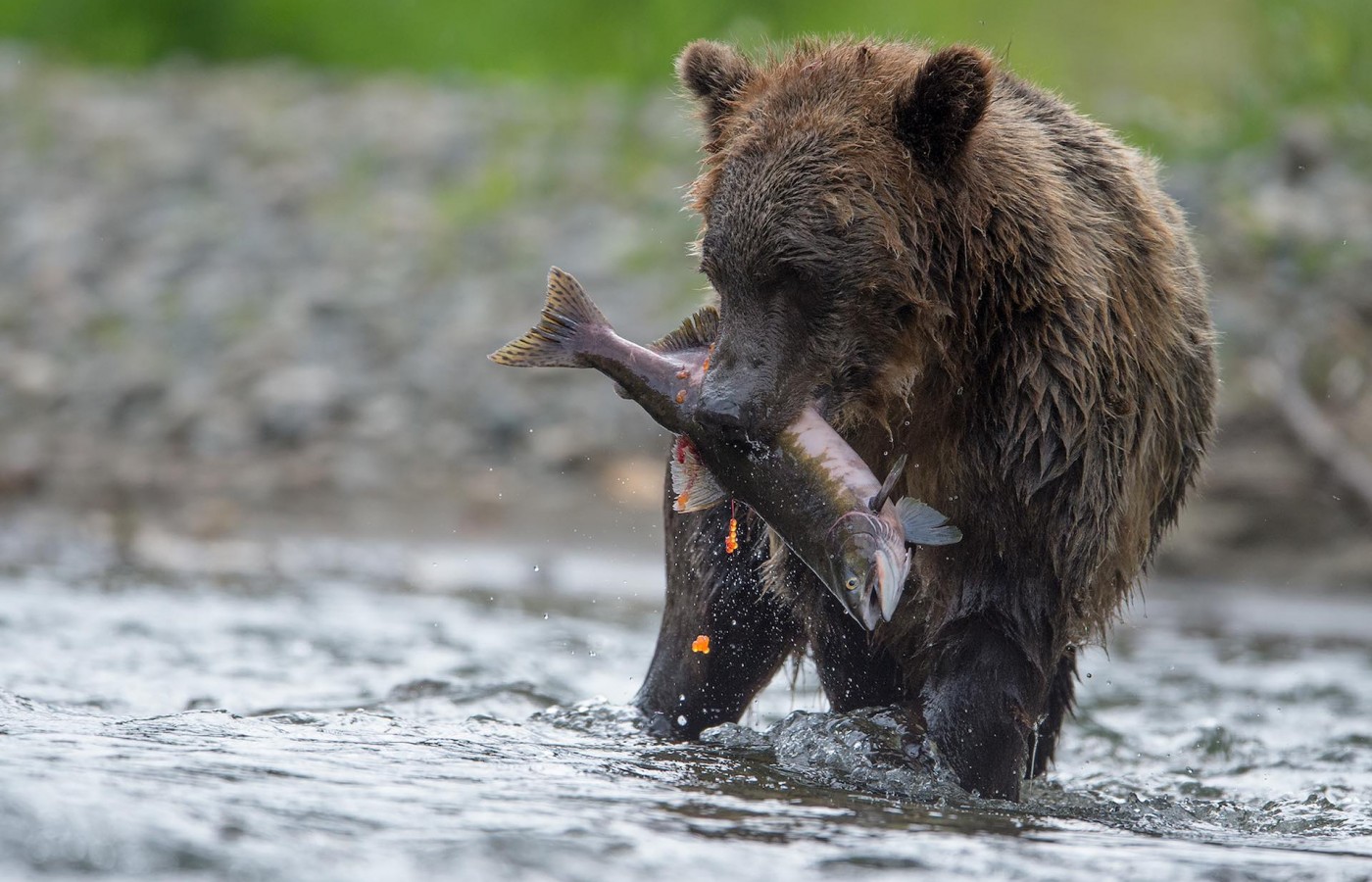 Prime time, the river is abuzz with teems of migrating salmon and bears frolicking in a free-for-all.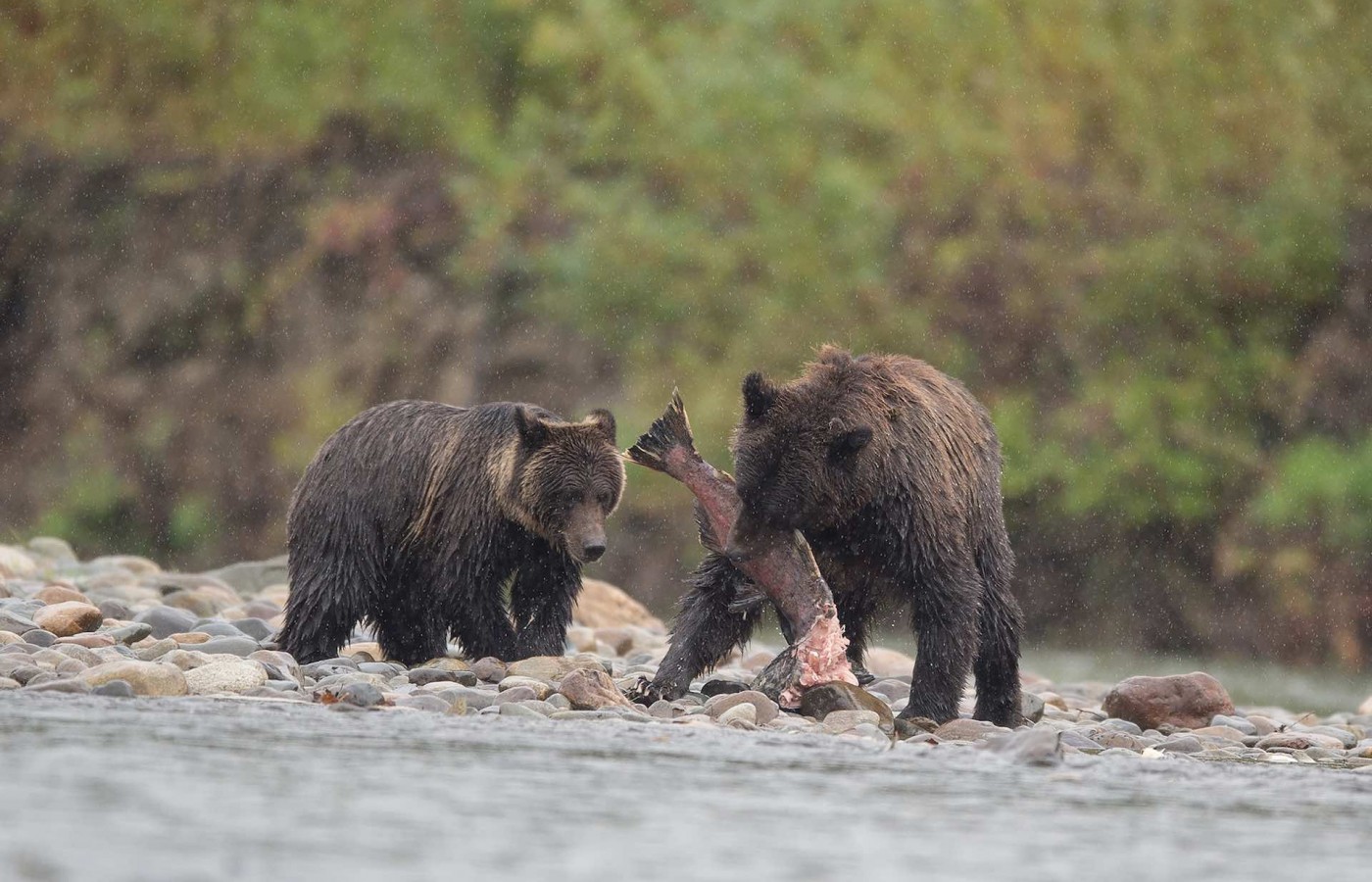 Our best-kept secret! Straggling salmon are eagerly poached as the bears fuel up for hibernation, making autumn an excellent time to visit. The autumnal colours of this season will delight even the most amateur of photographers, showcasing treelines of mottled green, yellow, orange and red; lush lawns; and even the occasional snow dusted peak!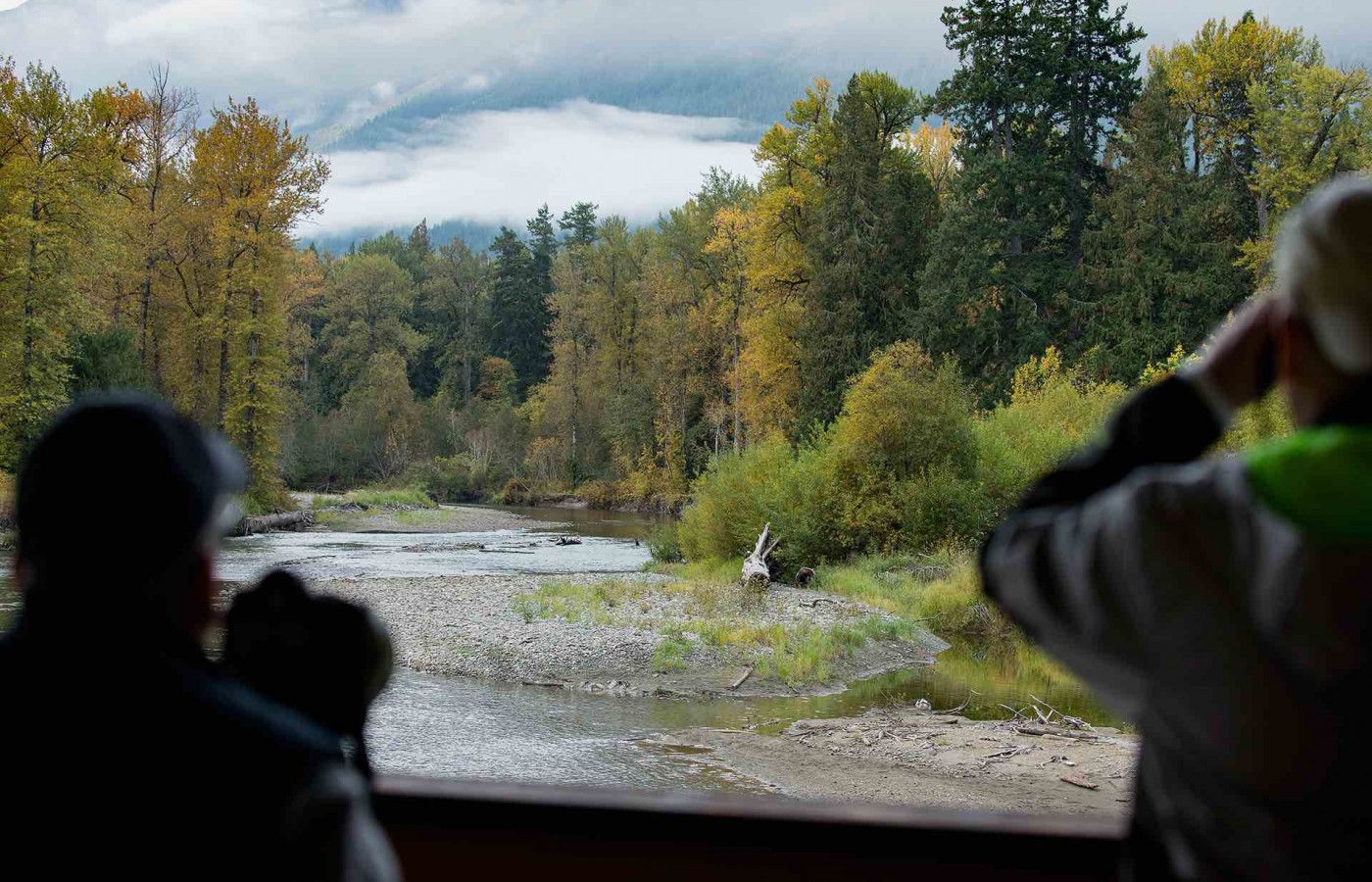 THERE ARE A VARIETY OF WAYS TO SEE GRIZZLY BEARS AT TWEEDSMUIR PARK LODGE
The Lodge is lined by spectacular forest-fringe, mountain and open-lawn views abundant with wildlife. In a Tweedsmuir exclusive, spot inquisitive sows and cubs roaming free across lodge grounds. You don't need a guided tour for this rare experience!
Note: these bears are not 'food-conditioned'. They venture on their own accord and are neither fed nor encouraged to approach.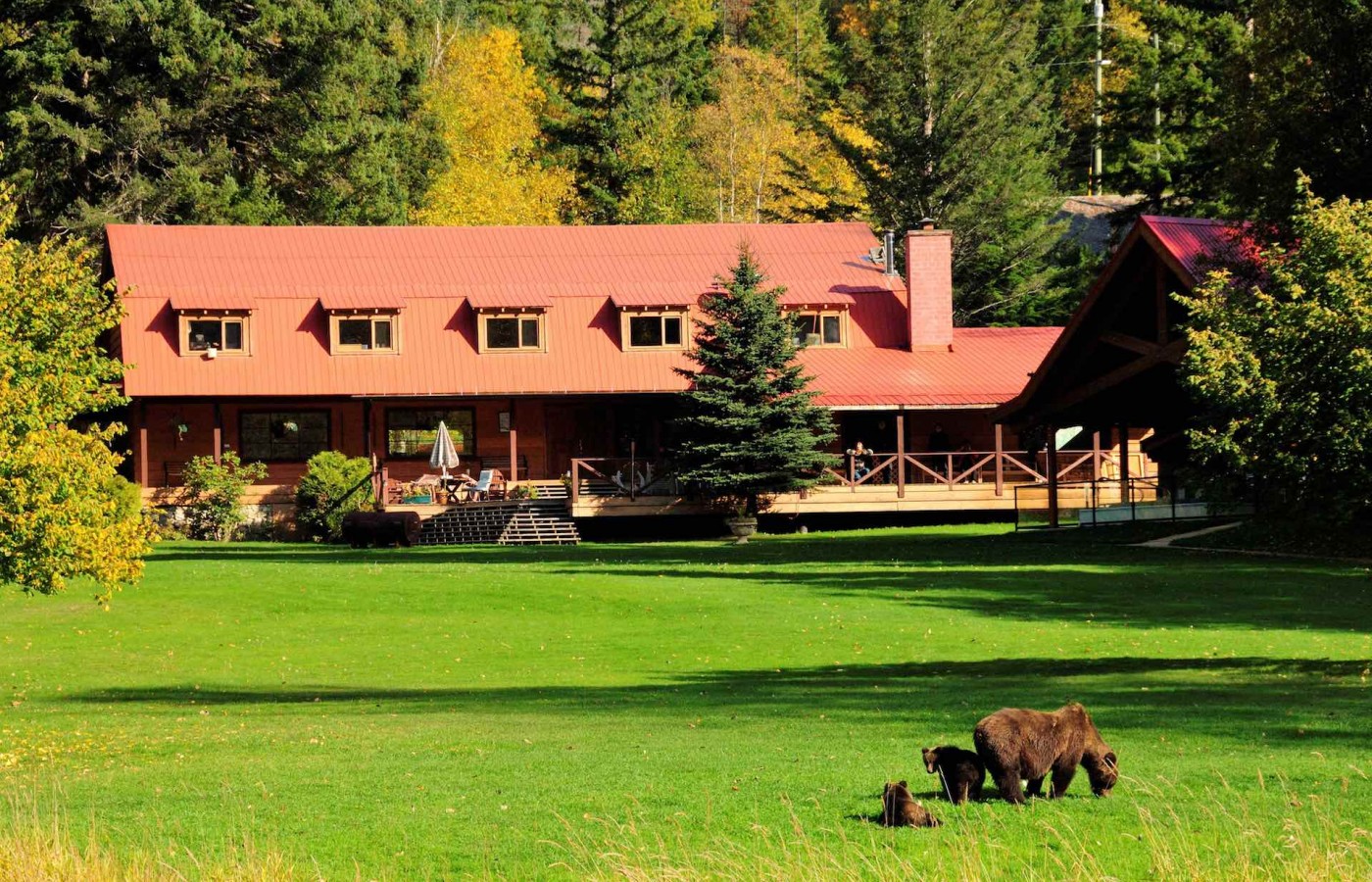 Face feeding time head on! Board non-motorized drift boats or rafts and meander the pristine Atnarko River for an eye-level account of Grizzlies in action! With a menu of self-select salmon, this is nature at its most primitive in a setting truly sublime.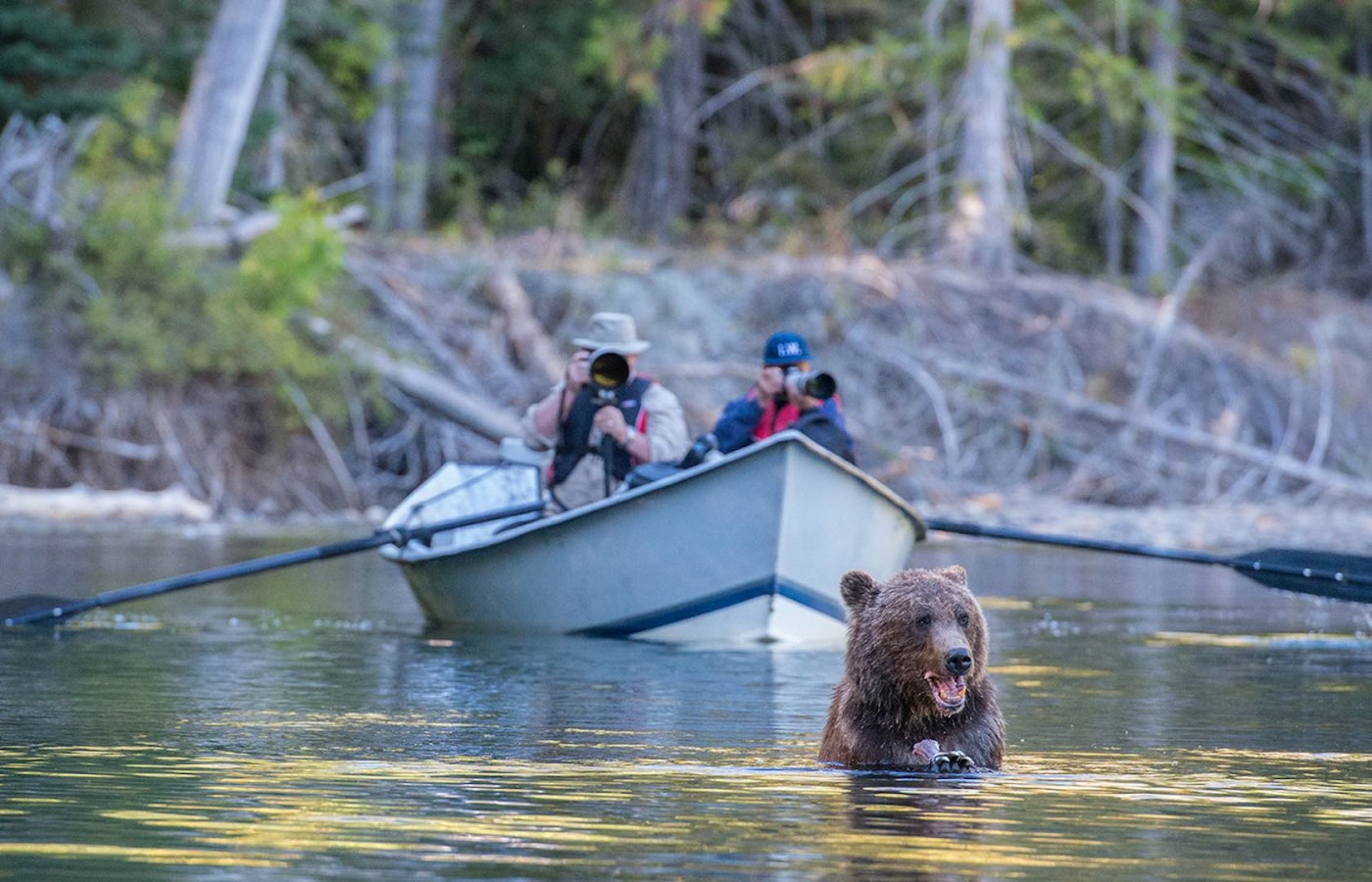 Venture through temperate rainforests to track and look for bears by foot! Be exhilarated with adventure at every turn, accompanied by the extraordinary knowledge of our expert guides.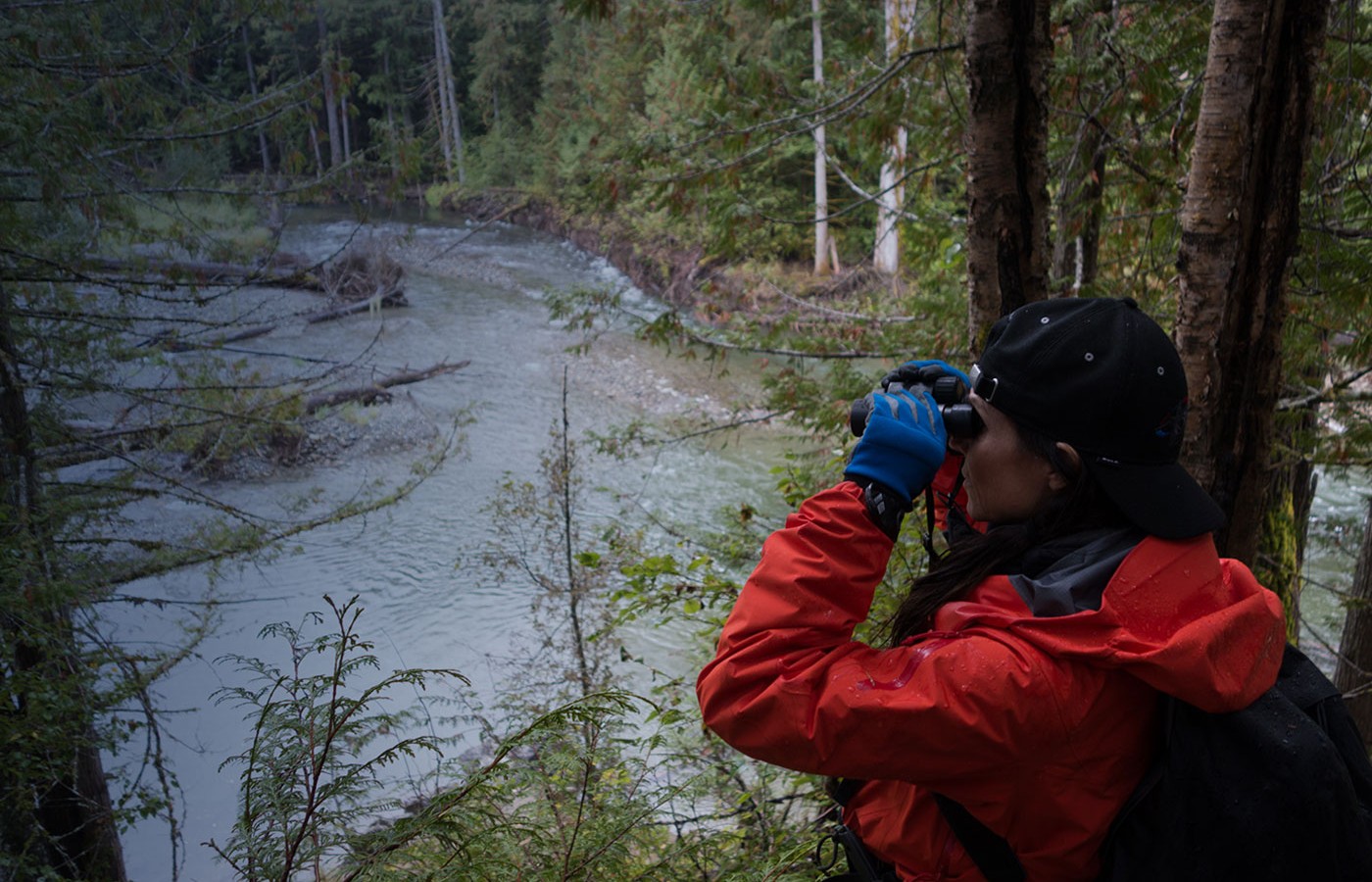 Venture 300m from your chalet to find our private wildlife and Grizzly Bear viewing platforms, offering astonishing views up and down the Atnarko River. Gain a bird's-eye view of Grizzlies in action alongside deer, salmon and a flutter of birdlife!
HINT: To maximise your bear viewing opportunities, head to a platform pre-breakfast or as an after dinner treat!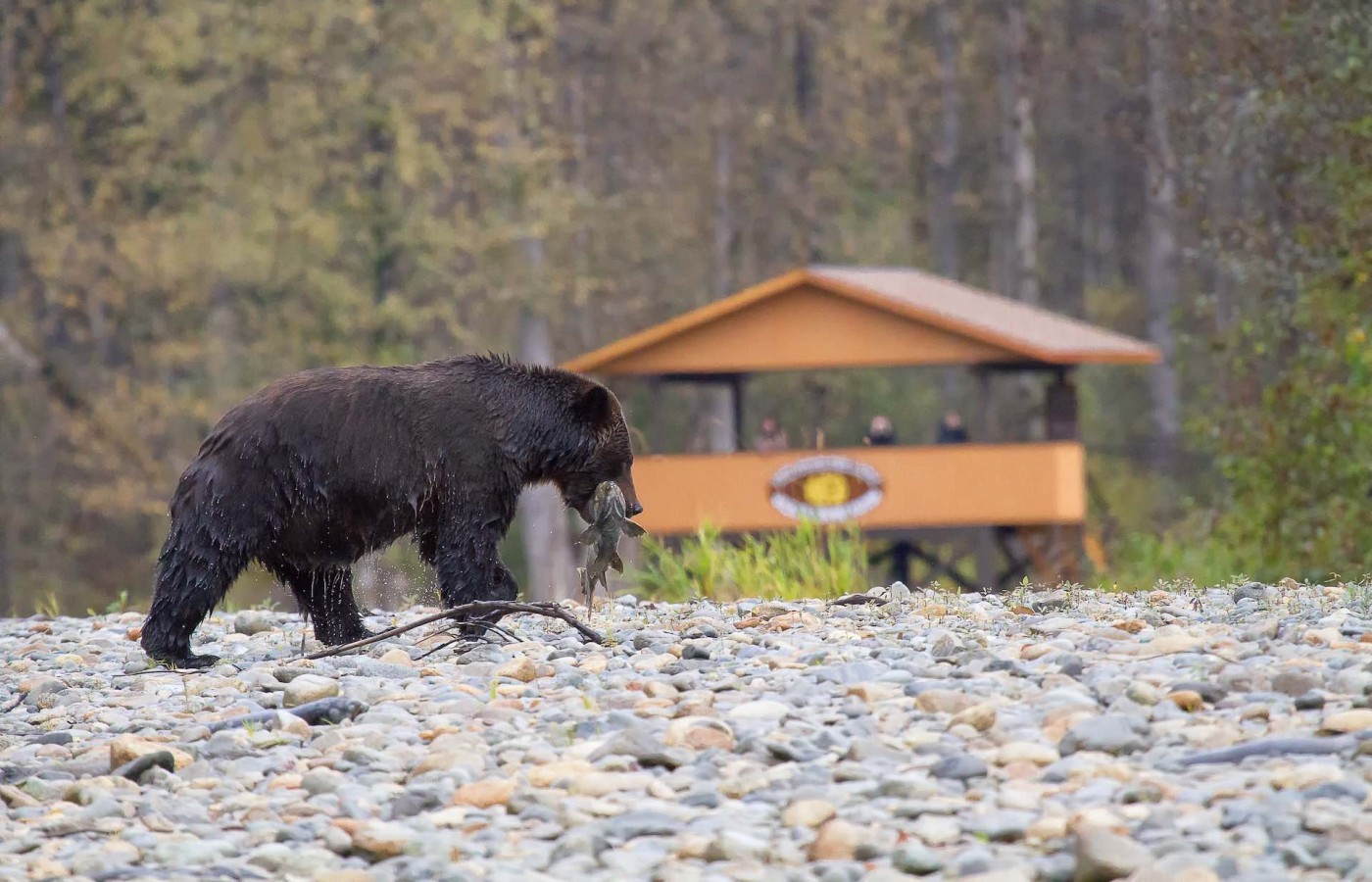 WHAT BEARS CAN YOU SEE AT TWEEDSMUIR PARK LODGE?
BLACK BEARS, GRIZZLY BEARS, CUBS, SOWS & BOARS!
Home of the black bear and grizzly, Tweedsmuir Park Lodge boasts prime bear-viewing opportunities for all guests. Meander the Great Bear Rainforest in search of sows (mother bears), twins and even triplets in the safety of our small, guided groups. Retreat to your chalet and watch cubs graze and play on the Lodge lawn under the watchful eye of the sow.
BEAR BIOLOGY 101
The majority of Tweedsmuir's grizzly bears can be classified as mountain grizzlies. From April until late May they rouse from their dens and forage at low elevations for new vegetation to graze on.
After the bulk of the winter snow has melted (May through to early July), the grizzlies vacate the valley to feed on emerging vegetation on avalanche chutes. For this reason, we do not offer bear viewing adventures in early summer.
Our bear viewing packages are offered during the prime viewing time of mid-to-late August through until mid-October. With a river rife with migrating Pacific salmon, this is your best chance to observe grizzly bears in force!
From early November until April, the majority of bears will be hibernating, leaving only the occasional bear hunting for fish.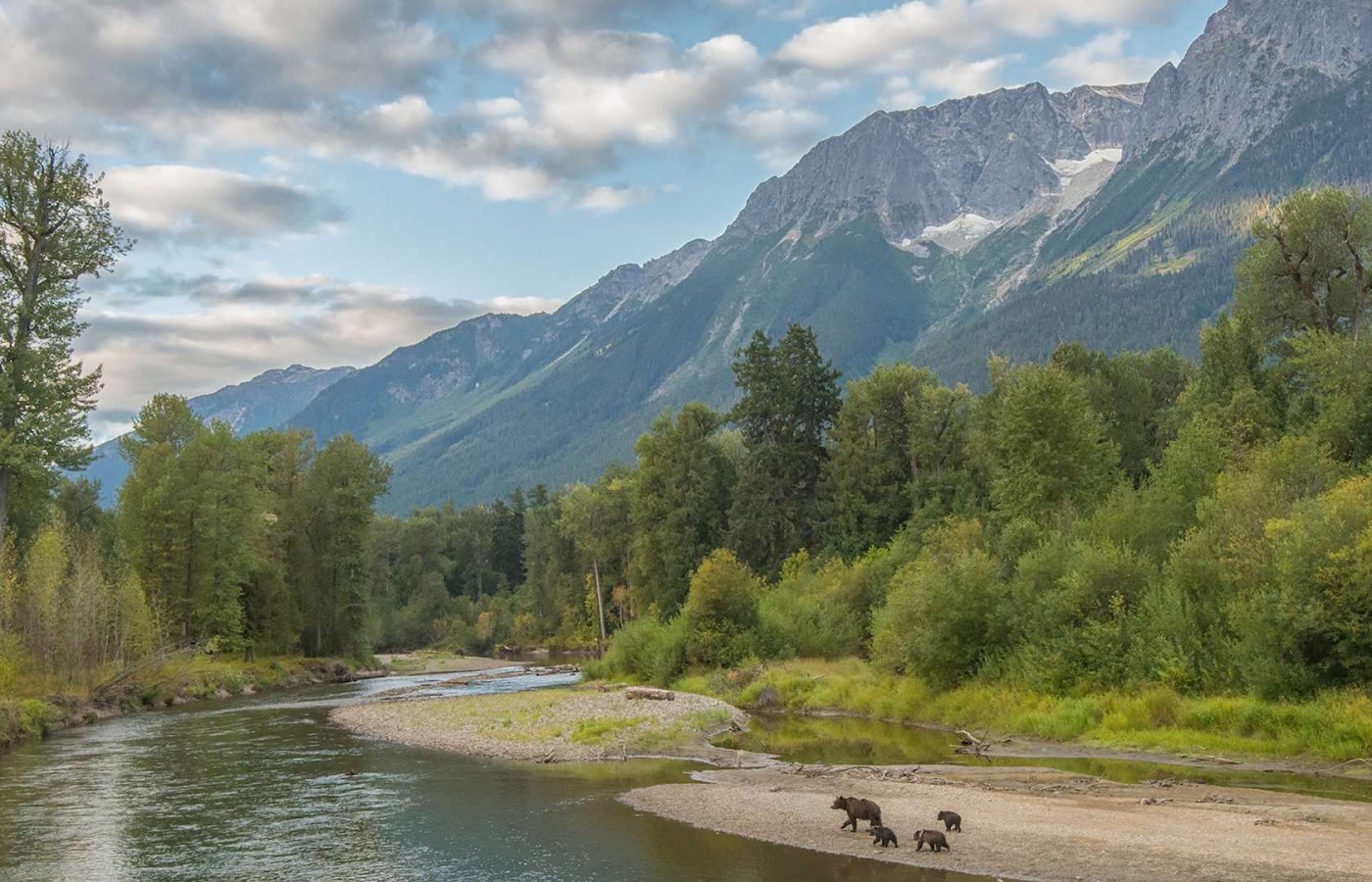 While technically carnivorous, black and grizzly bears feast on an omnivore diet of plants, insects, animals and fish. Low calorie, reliable food sources like plants and vegetation can fill almost 90% of a bear's diet, however fish and meat are optimal sources of fat and protein. Salmon, baby elk, deer, moose and caribou are among the favoured species these predators target for consumption.
In addition to grasses and sedges, grizzlies use their strong shoulders and long claws to dig for roots, lily bulbs and foods with a high starch content. Coastal Bears scavenge at low-elevation, feeding on the cured carcasses of salmon and skunk cabbage roots.
Food is scarce during spring meaning bears lose weight well into June. In Summer, they make the most of wet meadows and river-side greenery, as well as the ants and beetle larvae found among logs. Late July and early August see the ripening of berries, a high energy food source for bears. Autumn is a time of bulking for Black Bears and Grizzlies, who enter a state of hyperphagia preceding their winter hibernation – a period when food supplies have diminished, snow amounts, and the bears forgo food and water in favour of their dens.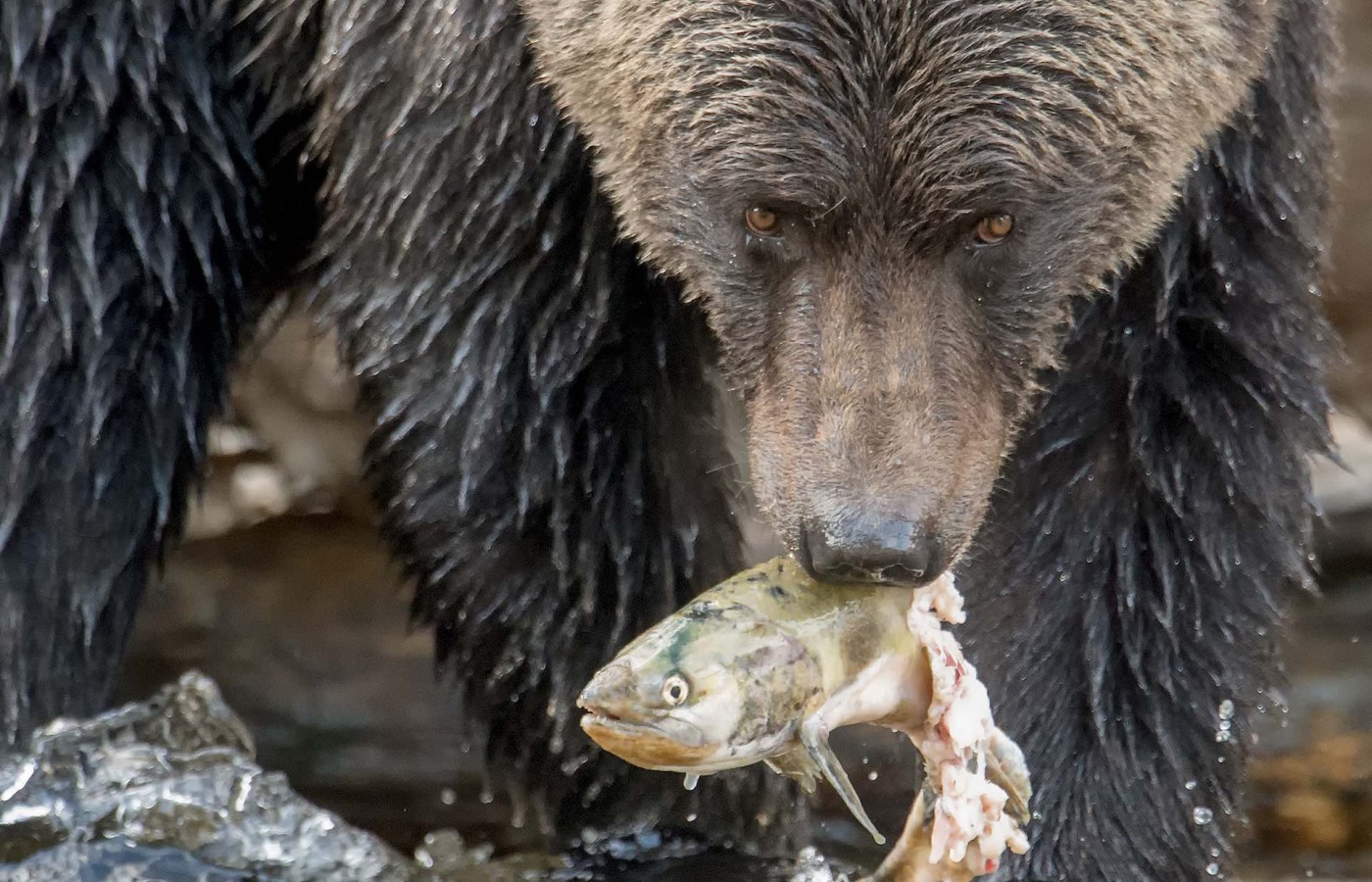 Grizzly Bears are a subspecies of the Brown Bear, differentiated by their silver-tipped fur and the hump between their shoulders.
Fur: Thick and typically brown (but can range from dark blonde through to black), with a ruff of longer hair around the neck
Face: Concave shape, abrupt snout, and small eyes and ears
Claws: Long for digging vegetation
Weight: Females can weigh as little as 250 pounds during the spring season. Males can weigh up to 725 pounds heading into hibernation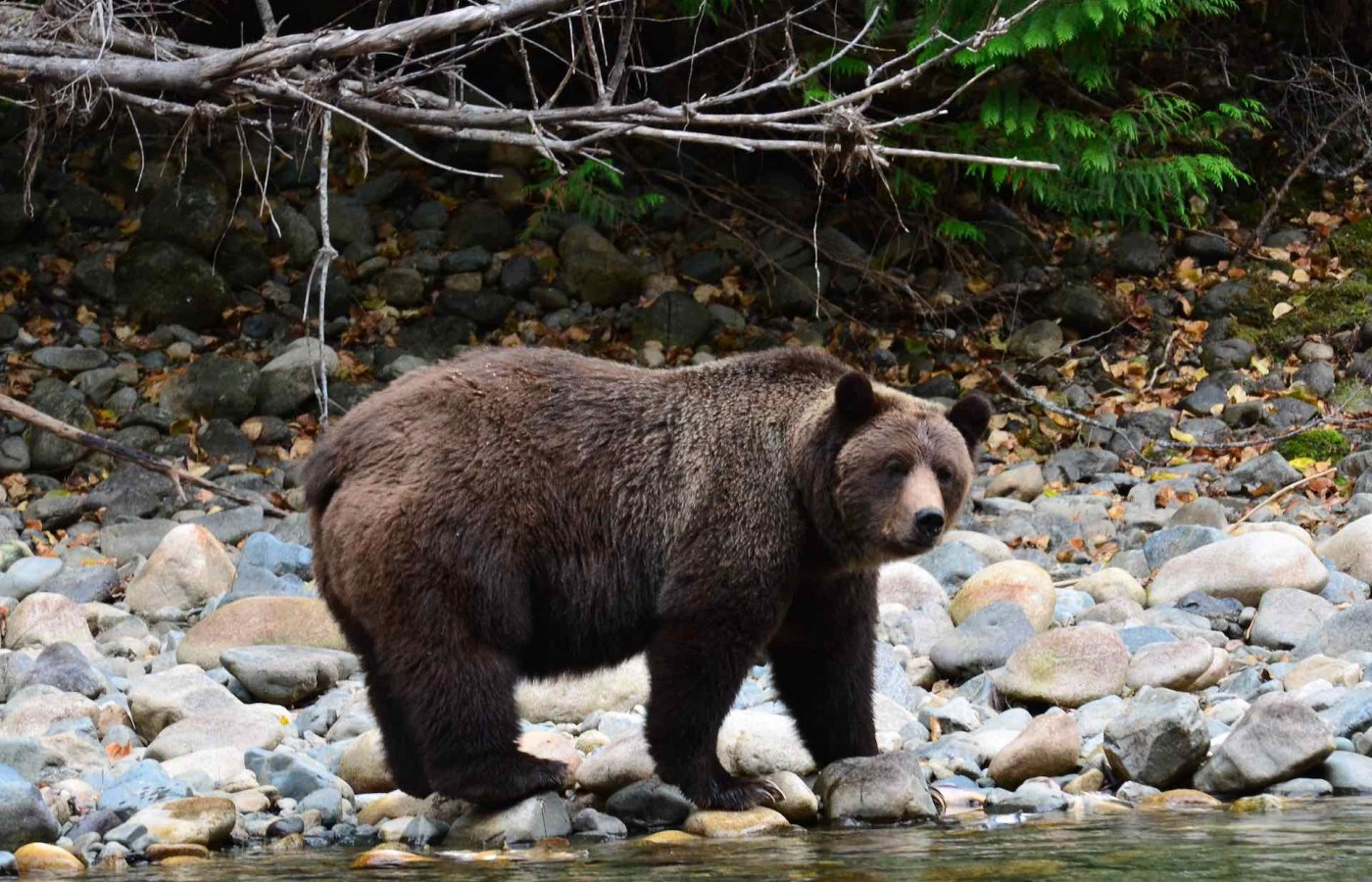 Guest safety is our #1 priority.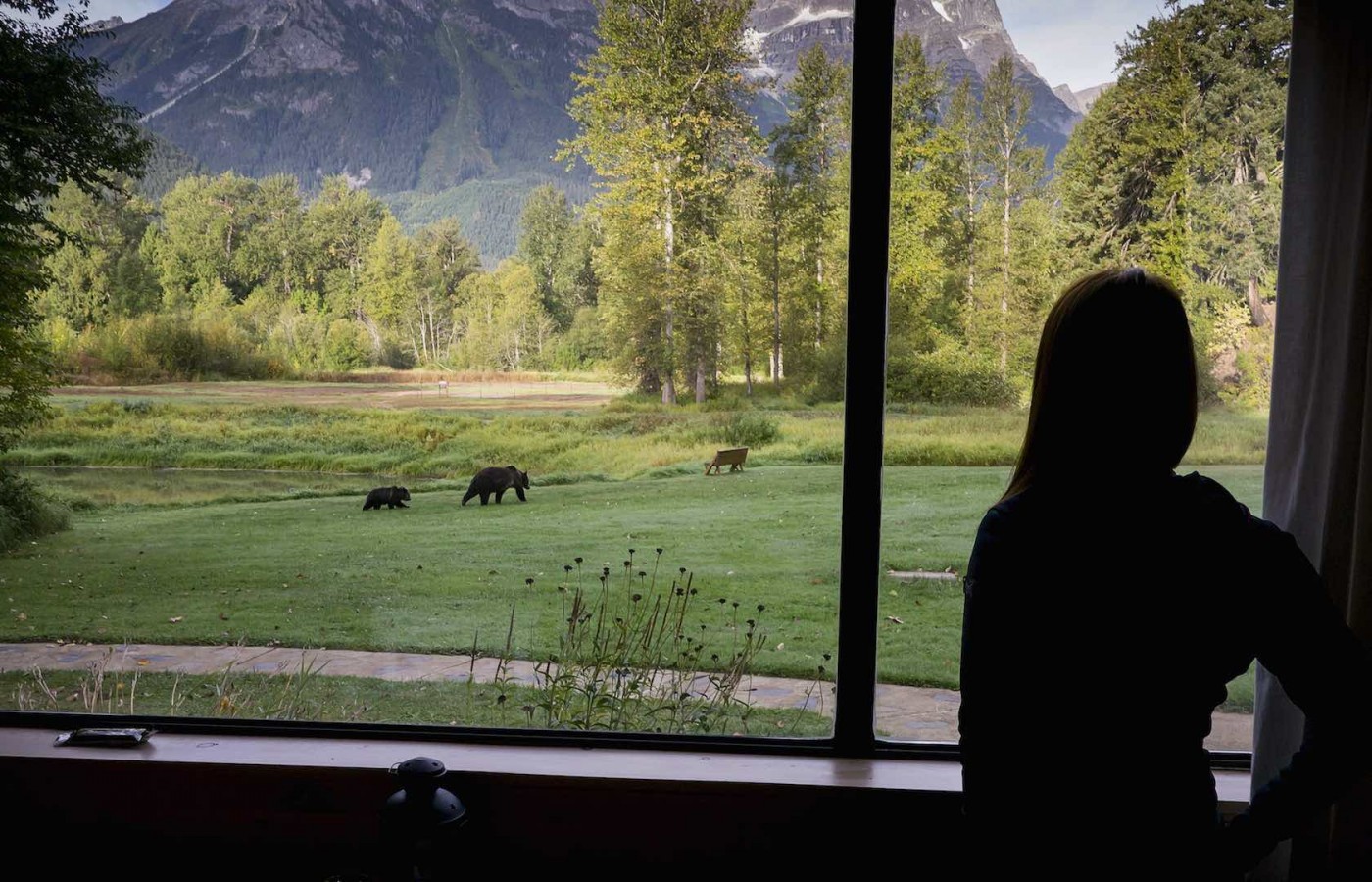 The BearID & other bear conservation projects
DOING OUR BIT
Tweedsmuir Park Lodge is a proud supporter of BearID Project (formerly the Brown Bear Research Network) and other bear conservation projects as we recognize the importance of preserving wildlife and the environment for future generations.

For each guest that stays with us during bear viewing season (September to mid-October), we make a donation to the Commercial Bear Viewing Association which distributes the funds to a variety of bear conservation projects.

In addition to financial support, we assist bear biologists with several projects in order to learn more about these amazing creatures.
Commercial Bear Viewing Association of British Columbia
FOLLOWING THE LATEST RECOMMENDED PROTOCOLS
The Commercial Bear Viewing Association of BC (CBVA) was formed to promote sustainable bear viewing in British Columbia and aid in the protection of wild bears and their ecosystems.

Our lead bear viewing guides have successfully passed the CBVA exams where they have learnt "best practices" in regards to bear viewing, including how to minimize risk for both bears and humans.
Trophy hunting
Tweedsmuir Park Lodge vehemently opposes grizzly bear trophy hunting. The revenue generated by grizzly bear viewing tourism dwarfs that of trophy hunting, while being more moral and sustainable.
GRIZZLY BEAR VIEWING PACKAGES
Flexibility + Exclusivity. Whether you're up for hard-core adventure or prefer to leisurely explore, we can tailor your itinerary to your interests, physical abilities and group culture with a privately guided package.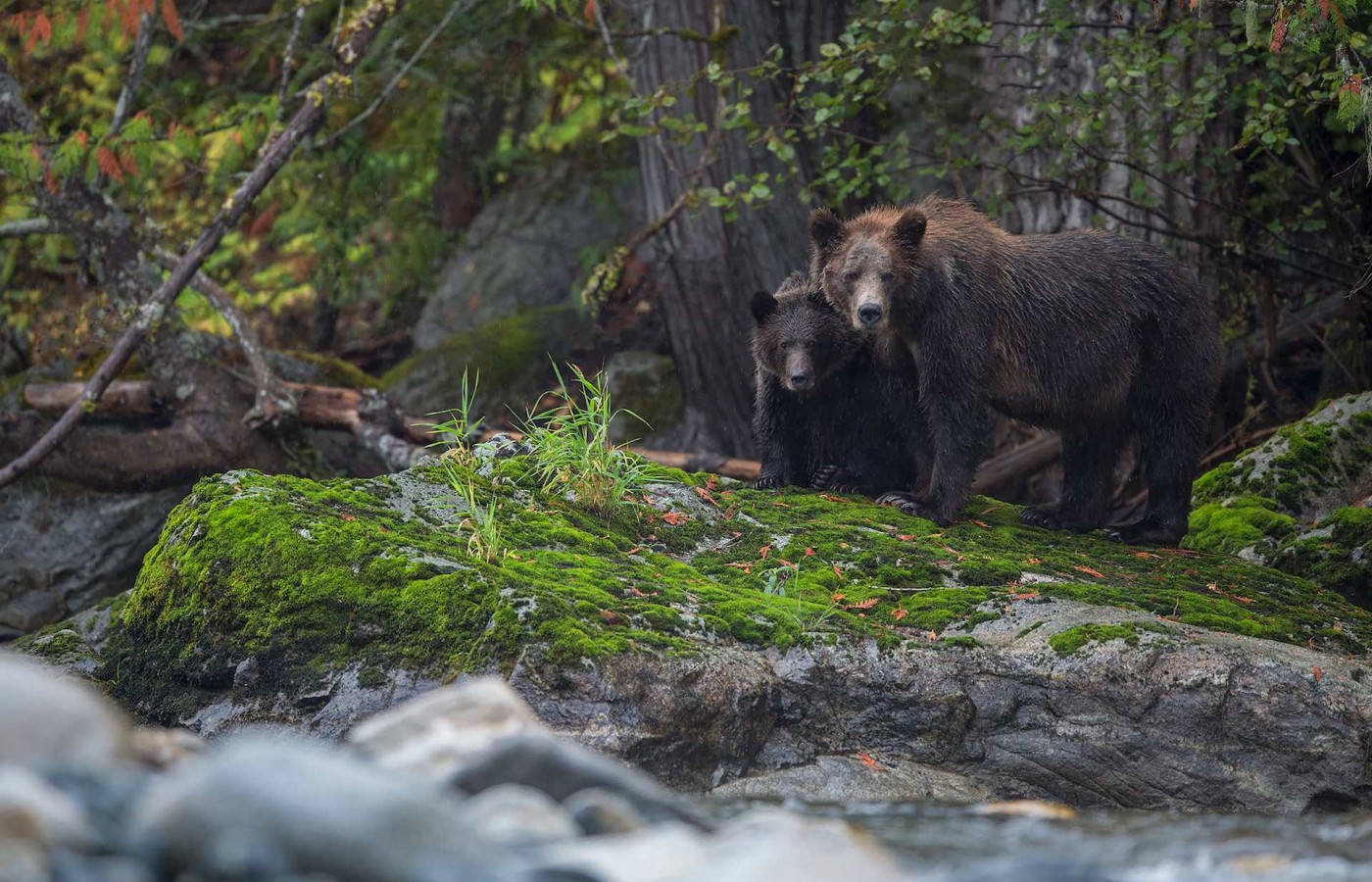 Social + Value. Our Small Group adventures offer the knowledge and expertise of our experienced guides to solo travellers and parties of 2-6.